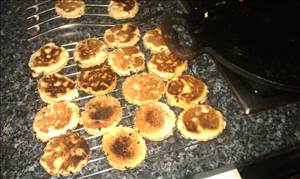 Welsh Cakes
Hot stone cakes.
Yields: 13
Preparation Time: 5 mins
Cooking Time: 10 mins
Rating:
Ingredients
Directions
Stir dry ingredients together, except dried fruit.
Cut in fat.
Add dried fruit.
Make a well in middle, crack in egg, beat it and incorporate with dry ingredients, make a dough.
Roll out and cut with 6cm biscuit cutter.
Put on preheated hot stone for a few minutes on each side until golden brown.