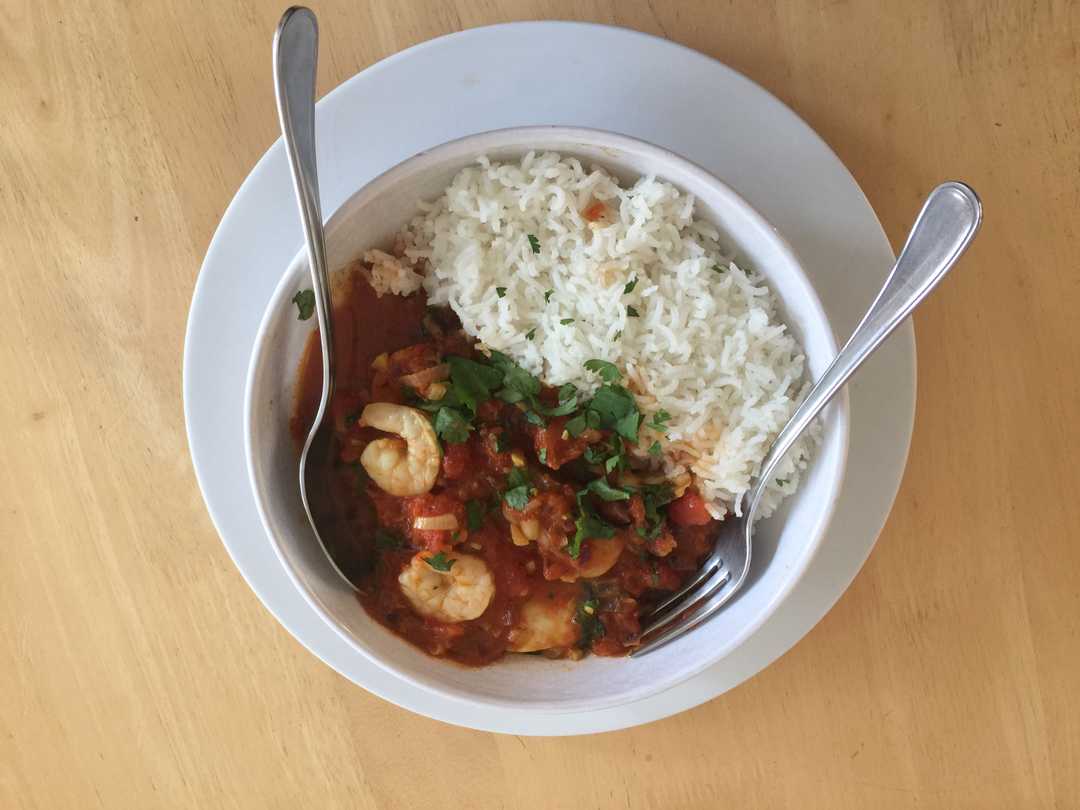 A light curry. Make it as hot or mild as you like.
| Yields | Preparation Time | Cooking Time |
| --- | --- | --- |
| 2 | 15 mins | 15 mins |
Directions
| | |
| --- | --- |
| 1. | Use any firm white fish fillets, like cod, haddock or halibut. Sprinkle them with half the salt and the lemon juice on both sides, and leave to stand while you chop the onions and chilli and mince the garlic. Use more or less chilli to your own taste. You can use chilli powder, flakes or dried chilli if you don't have fresh. |
| 2. | Fry the chopped onions, minced garlic and chopped chilli in a little spray oil in a flat bottomed pan with a lid. Crush the coriander seeds (or use ground coriander) and add with the cumin to the onions and fry for a minute more. Add the chopped tomatoes (fresh or a tin) and cook for another 5 minutes. |
| 3. | Lay the fish fillets in the pan, and ensure you cover them with the tomato mixture. Sprinkle with the remainder of the salt, the curry powder (use garam masala if you can get it) and the chopped coriander. |
| 4. | Cook the fish for a few minutes until the flesh just turns white. Add the prawns and turn in the hot sauce. |
| 5. | Serve with plain boiled rice or a small naan bread, garnished with a little more fresh coriander and lemon wedges. |
Nutritional Summary
There are 210 calories in 1 serving of Fish Curry with Lemon and Coriander.
Calorie Breakdown: 5% fat, 36% carbs, 58% prot.
Nutrition Facts
Serving Size
per serve
Energy
877 kj
10%
210 kcal
Fat
1.18g
2%
Saturated Fat
0.134g
1%
Monounsaturated Fat
0.393g
Polyunsaturated Fat
0.277g
Carbohydrates
17.96g
7%
Sugar
5.23g
6%
Fibre
2.4g
Protein
29.02g
58%
Salt
3.98g
66%
Cholesterol
27mg
Potassium
282mg
14%